vehicle type
age
environment
RC Helicopters

10-12

Indoor
Helix X4 Stunt
The Helix X4 Stunt is a high-performance Remote Control stunt quad-copter! It is aggressively maneuverable and incredibly fast! Perform 3 incredible stunts with the push of a button as you flip, barrel roll and 180 flip. Its full 4-channel control enables the Helix X4 to easily out fly any obstacle and out stunt any other Remote Control vehicle. Nothing moves like a Helix! Experience the future of flight with the agile Helix X4 Stunt!
available colors
vehicle
features
Exoframe construction for superior durability
2.4GHz radio control
Gyro stabilization
4-channel control
Charges from remote or using USB cable (included)
vehicle
callouts
reviews
"Spin Master is taking its Air Hogs Elite Helix series to untold heights with the new Air Hogs Elite Helix X4 Stunt Quad Copter The advanced remote control aircraft promises the next level of flight control for young, aspiring pilots everywhere."
Jordan Minor,
PC Mag
​"We crashed this a lot as we were learning to fly it. It took crashing into walls, bookshelves, ceilings, and so forth without any damage. That's a huge plus for fans. If you're a fan of R/C and want a great high-performance toy that delivers a terrific value, then you'll want to check this out."
Chris,
timetoplaymag.com
"Simply put, if you have kids who like flying toys, they are going to love the Helix X4 Stunt Quadcopter.
Seriously, the Air Hogs Elite Helix X4 Stunt is a great quadcopter, which the kids and adults will have a blast flying."
Dan,
Daddoes.com
tips & tricks
1
WATCH: this tutorial on how to set up your Air Hogs Helix X4 Stunt. This video also provides some tips and tricks with best flight practices.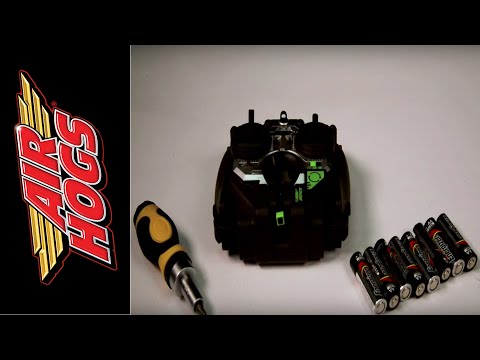 2
Stunts: Always perform stunts in a wide-open area free of obstacles. For best results, make sure the Helix X4 is flying in a straight, stable direction or hovering in place. Immediately after the stunt is performed, hit the throttle quickly and carefully to restore balance.
3
Novice and Expert Modes: Sharpen your skills in Novice mode before attempting to master the Helix X4 Stunt on Expert.