vehicle type
age
environment
RC Helicopters
Land Vehicles

10-12

Indoor
HOVER ASSAULT
Dominate both land and air with our hybrid Remote Control technology which allows you to explore terrain like no other vehicle can. When your path is blocked, just hit the trigger to take off and leave gravity behind. Drive, jump or soar into full flight, ready to unleash a fury of 4 plastic missiles. All-terrain will never be the same.
available colors
vehicle
features
Ground and air hybrid remote control (drive, jump and fly)
Intelligent propeller system for ground and air propulsion
Remote missile launching capability
8 plastic missiles included
Steady Fly Technology™ for ultra-stable flight
Includes practice targets
vehicle
callouts
reviews
"Further proof that every generation of kids has it better than the last, Air Hogs Hover Assault means youngsters no longer have to choose between an RC car or an RC helicopter."
Andrew Liszewski,
Gizmodo
"​Air Hogs is On a Roll...And a Fly...And a Fire...
Once kids get the hang of it, there is a lot to love. Drive, hop over things, fly, fire missiles – all things that 10 year old boys (and their Dads) love to do."
Dan,
Daddoes.com
tips & tricks
1
Is your Air Hogs heli spinning out of control? You may just need to trim it! It's simple to do and makes a huge difference - check out the how-to video here.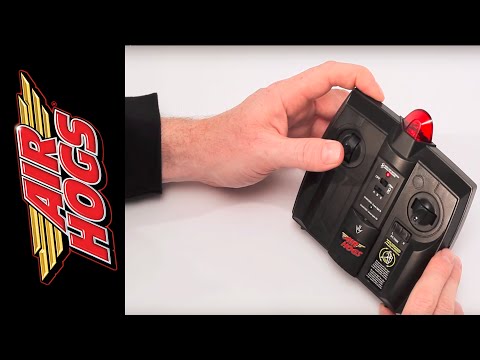 2
To shoot Rapid Fire Missiles, hold down the fire button.